Taking your dog on a holiday with you is something that all dog lovers do. In recent times the number of propel who decide to go on a holiday with their favorite pet or animal has risen exponentially. This has prompted many lodgers and hotels to change their policy and make it more suitable for people who go on a holiday with their dogs. There are even more and more travel plans which are specifically aimed at allowing you to bring your dog. More and more items and accessories for dog travel are being sold. So based on this it is clear that the market is allowing the people with dogs to bring their favorite animal and pamper it as well. But is it really suitable to have your dog with you.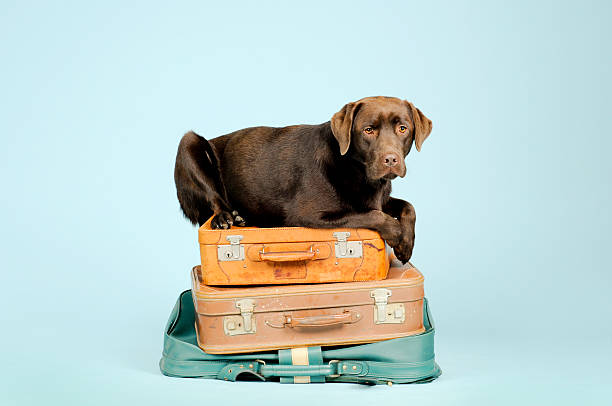 Even though there are many alleviations now present for you to bring your dog, it can still be troublesome to do that. Dogs are not really used to traveling long distance and you might also have problems with the form of transportation. Bigger and smaller dogs require different care and you will mostly have to adapt your plans and ways of vacationing to your dog. The dog will not adapt to your needs, you are the one that needs to make all of it suitable for your pet.
So dealing with this will include making compromises and doing a lot of adaptation on your part. This does not have to mean that your holiday is ruined in advance. It just means that you need to prepare well and that there are certain things that you have to know in advance. Bringing your dog on a holiday with you can make things a lot more fun, or it can make it harder for you. The question is, how you want to do it? So here are some tips that might help you make your holiday with a dog better.
Should I Bring my Dog in the First Place?
This is the first question that you need to ask yourself. The first step is deciding whether your dog would enjoy and if it would be a good idea to bring it along on a trip. But bear in mind, if your dog is sick, injured, pregnant or has any kind of a physical condition that might deter it form going on a trip, it is wise to leave the dog home. You shouldn't put any additional strain on an animal which is already not fit enough to go and better leave it to rest.
If your dogs have motion sickness, get overanxious and over-stimulated easily, it is also better to leave them home. Remember, your dog has to enjoy the trip as much as you do. They will probably not enjoy a long trip if they have these characteristics. In that case finding a sitter for your dog or simply leaving it with a friend would do. Your dog is your loveable pet and you do need to enjoy the trip together. If your dog ends up being locked in the apartment room while you are somewhere enjoying your day, better leave the dog at home in a familiar environment.
Dogs are notorious when it comes to change of environment. Some of them have routines that they do not like to be changed. If your dog does not like changing places nor doesn't want to change some of its routines, leave it at home where it is safe.
Preparing for the Trip!
Now when you have decided that your dog is coming, it is time to do all the necessary preparations for it. The first thing that you should do is to see your vet and get the dog checked out. This is connected with the first part and you need to determine that your dog is healthy and that it will not suffer during the trip. Get all the necessary vaccinations up to date and also get some advice from your vet just in case.
Next thing are some of the legal documents that you have to have. Depending on the type of transpiration and the location that you are going to, you will need to acquire some documents for your pet. Some airline companies or ships do require that you provide them with certain information about your dog and the same thing goes when you enter a different country. You will need to ask beforehand about all the necessary things that you have to provide. You do not want to end up being turned back because of a missing document that you do not have. The best way would be to decide where you are going and how you are going to get there and then check the policy or the requirements for dog travel.
You also have to predetermine the policy that transportation companies have towards animals. The same goes with accommodations as well. Certain companies have different rules when it comes to storing the animals. For example, if you know the Tibetan Mastiff characteristics, you know it is not a small dog and it requires different conditions than a smaller dog. Bigger dogs usually have to be placed in the cargo area in specifically secured boxes. Smaller dogs can be carried with you in some cases, but you still have to put it in a special container during the trip. Hotels also have different polices in regards to animals. Some of them do not allow them and are really strict about it. But luckily since there are more and more travelers going with their pets, a lot of hotels have decided to change their policy when it comes to animals. When booking your accommodation in a hotel always check first about the rules they apply for pets, or in this case specifically dogs.
On the Road!
This may differ when it comes to forms of transportation. But if you are traveling by ship or plane, this is easier to endure and faster. But if you are going by car, there are many things that you have to think about in order to relax your dog. Some of you may think that it is easier to take your dog by car, while on the other hand it can prove to be a lot difficult.
Some things that you have think of include not feeding the dog just before the trip. It is also not advisable to feed them during the trip. If you really have to, give them small portions. They dog might get motion sick that way or will require frequent toilet stops. Also make sure to restrain and secure your dog. You can use a leash to tie your dog if it is restless during the trip. Your family members may provide you with help during this time, particularly your kids as they may play with the dog and calm it down. Never open a window or the door of the car if your dog is not properly secure. They might get away and you might end up losing it. Another thing is that you have to make your dog as comfortable as it can be. Sometimes it can get pretty hot during a trip so make a comfortable environment for the dog. Pull down the shade for the side and back windows or turn on the AC. This goes particularly for furry dogs or when you are going to a different climate. The same thing goes if it's too cold. In that case you need to get the dog warm. Frequent stops are also necessary. Your dog will relieve itself and it will also not get to be too restless. Making a stop and taking a short walk is not only good for the dog but for the driver as well, so this is beneficial in two ways. Bring some water and ice, just in case, and carry it in containers. You never know when you are going to need it.
Dogs on a Plane
Taking a plane may be easy for you, but it is absolutely a dreadful experience for your dog. This is probably the easiest way to transport your loving pet when taking a trip, but do not expect the dog to like it. In fact, a lot of dogs are terrified of flying and it puts additional stress on them if they are put in a container. The cargo hold can be a lonesome place for any pet, particularly if it's a long trip.
We actually advise you not to take your dog on a plane ride and do it if it's utmost important. Dogs should be taken on a plane only when you are moving or if there is no other way. There is a lot of paperwork that needs to be done and you also need to make a lot of preparations for your dog. It makes things harder for you and your dog. Additionally, your pet might also develop certain conditions or even get ill. Some are prone to separation anxiety and it also makes it harder for them to endure this kind of a trip.
You Finally Arrived!
Now when you are there, there are more rules that you have to oblige. First of all, dogs are creatures of habit. They have their routines that they do not like changing. So do not force change on them and make sure that you provide them with similar conditions that they have at home. The closer they feel like at home the easier is it going to be for them.
What you need to do is to introduce them to the room or the place that the dog is going to stay first and also take them out for a walk around the neighborhood. Try to make all of their routine walks like back home and also make sure that they eat the same food. Playing with them is important and do not dare leave them cooped up in their rooms during the whole trip. Try to make them a part of the holiday as much as you can.
Also, it is important to note that you have to behave like a responsible owner. Try to see what the general rules are and follow leash laws or anything that your landlords or the place that you are staying in are going to tell you. It will make things easier for you and you will also not have any problems with the people there.